Adirondack Treks Trips
Treks Runs Trips Year 'Round
General Trip Information
MANAGED RISK: Our trip leaders and guides are experienced outdoors folks, trained in safety practices; adult to youth ratio is 1:4.  The activity determines group size, but 8-10 is our normal number both for safety and minimal environmental impact when hiking and camping; for paddling activities, the leader to youth ratio is 1:3; paddlers need to be able to swim; our lead climbers refresh their skills and safety practices biennially with professionals, and kids start out climbing indoors before heading outdoors.  We encourage physical fitness activities as well.
WHO: We actively recruit youngsters from South Central Adirondack Park to become active members of Treks, however, our trips are open to all youths ages 8-18 from any residency; younger children may come along if accompanied by a parent. We encourage parents to hike, paddle, ski, or climb with their child participant. Each Trekker must fill out the annual consent form before participating in an activity.
COST:  There is an annual $5 membership fee to cover insurance; other costs are event specific and may include:  equipment usage, facility or event fees, shared transportation and food costs.
EQUIPMENT: Available to our Trekkers for $1 donation/day: day packs, snowshoes, PFDs, paddles, Nordic equipment, climbing harnesses, helmets, head lamps
TRIP ESSENTIALS:  The specific trip and season will determine the essentials but there are some basics for all trips.  Clothing:  synthetics not cotton (lose the jeans and sweatshirts), wool socks, sturdy, protective footwear, raingear, extra jacket or shell,(and/or wool sweater or fleece), seasonal hat  Accessories:  sunglasses; bug dope; sunscreen; water bottle;  Personal: needed meds; sanitary napkins; chapstick; Germ-X
TRIP DIFFICULTY RATING
A safe and fun trip for all is the goal. Please use the trip rating to determine if your skills and physical abilities match the trip.
| | |
| --- | --- |
| Rating | Description of hikes |
| AA | Full day 10+ hours of hiking or outings covering 16 or more miles (often covers 2-3 meals) |
| A | For experienced hikers; distances range from 8-15 miles |
| B | Generally 4-8 miles; slower pace; moderate to steep terrain |
| C | Under 5 miles; easy to moderate terrain; gentle introduction at beginning of season or for younger participants |
| | |
| --- | --- |
| Rating | Description of paddles |
| AA | Class 3 white water; portages; |
| A | Class 1- 2 white water; possible portages |
| B | Flat water 5-20 miles per day; possible portages; moving water |
| C | Flat water under 5 miles/day |
Trip Sign Up:  Our current schedule of events is posted on the Calendar.  Simply click on the date and a trip description will give you the details of the trip including the leader's e-mail in order to sign up.  Please sign up at least a week in advance.  Usually trips will need a minimum of 3 participants to go; please be courteous and let the leader know if you are unable to attend as soon as possible.
Transportation: Parents and adult leaders only; trips usually start and end at Ski Bowl Park pavilion or at a specified site as determined by the leader.
Questions: Send us an e-mail at [email protected] or [email protected]
We have millions of acres of great hiking terrain here in the Adirondacks. Our hiking trips range from short, partial day trips, to full day trips, and will often include some rigorous mountain terrain. Pay attention to the rating of the specific trip to see if you are up for it. We even do some night hikes. Proper footwear (hiking boots) and good daypacks are necessary equipment. Dress in layers as appropriate for the season, and always bring an extra jacket or shell when climbing a mountain. TREKS has daypacks for those who need them. For any hikes in the spring, fall, or winter, it is very important to wear synthetic clothing, bring a headlamp, and always assume the weather will change for the worse. Also important is to bring food and enough water. Bring food in plastic bags that generate minimal waste for you to carry out.
Paddling is a skill that every young person in the Adirondacks should experience, as we have so many great lakes and rivers.
Flat water paddling: TREKS' paddling trips can be skill development and practice on a nearby lake, a full day paddle, or an overnight trip. We encourage kids who haven't paddled before to participate in the shorter trips to build skills. Among other things, we teach paddle and canoe handling, proper PFD use, rescuing a swamped canoe, and how to deal with wind. Everyone will wear a PFD, but swimming skills are recommended.  Day trips usually involve stopping for a picnic lunch or snack. Some trips will include a chance to explore an island or a short hike.
White water kayaking:  Kayakers will start by learning how to hold a paddle, pull on a spray skirt, fit a boat to his or her body.  All kids will be expected to practice the "wet exit," a safety measure.  We start on easy, class 1 and 2 rivers, learning how to read the river, practicing eddy turns. Eskimo roll practice will be included, and we will have specific clinics dedicated to that skill.
White water rafting: TREKS has a popular white water rafting trip each year on the Hudson River, class 3-4. Specific skills are not needed for this trip, but kids will learn the features of the river, how to paddle properly.  Be sure to wear synthetic layers. Wet suits and splash jackets are provided as needed.
2017 Rafting Trip, June 22
Climbing is a great way to explore your inner monkey when we climb indoors and outside. Throughout the school year we offer trips to various indoor climbing gyms to get climbers started with the basics. Whether you are climbing at Rocksport in Queensbury or at the newest facility called The EDGE at Halfmoon, all climbers become familiar with equipment and commands and all learn technique as they develop their own climbing style. After several indoor practice sessions, it is time for some outdoor crags. Adirondack Treks is fortunate to work closely with the Adventure Sports program at Adirondack Community College to help facilitate our climbing experience in the out of doors. Students will have a chance to apply what they know and challenge themselves on real rock located within an hour driving distance. Our skilled leaders provide structure, safety, and the very best equipment for you to enjoy the vertical world.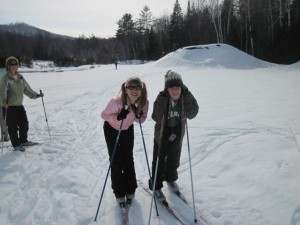 We have two types of ski activities:
Treks' Nordic ski instruction program takes place in several weekly sessions during the course of the winter. The goal is to build ski skills through a variety of games, activities, drills, and tours. Fun is had by all.  Light classical ski equipment is provided by Treks as needed.  In this program we also cover proper clothing and equipment needed to participate in backcountry ski tours.
Light backcountry ski touring trips involve skiing wilderness trails where the conditions and terrain may vary greatly. These will be specifically described and rated, and necessary equipment will be specified. Very often, we might ski into a lake or pond, or a loop wilderness trail. For many tours, light touring skis without metal edges are adequate. For tours on steeper terrain, participants must have good intermediate and above skiing skills, and be pre-approved by Treks. Proper BC ski equipment is necessary.
Caving trips that Treks does are horizontal caves only – the kind you can crawl through. They involve a hike to get to the caves, usually a couple of miles each way. These are excellent beginner caves to introduce the challenge of squeezing through small spaces, experiencing the total darkness inside a cave, exploring, getting muddy and wet, and helping each other as needed. It is also a learning experience – how caves form, how one cave differs from another, bat ecology. We've seen a lot of smiles as kids face and overcome their fears!
Snowshoeing is hiking during the winter. If you can hike, then you can snowshoe. It's the fastest growing sport in the world (according to Snowshoe magazine) for good reason:  it's easy to learn, it's relatively inexpensive, poses little risk of injury, and it's a great way to have fun outdoors in the winter. We have snowshoes which kids can use for TREKS snowshoe trips. As with hikes, TREKS snowshoe trips are of various lengths and degrees of challenge. Dress in layers with appropriate clothing for the weather.
Outdoor adventure requires preparedness. What are all the little things that you need in your pack to keep the adventure fun and safe?  What survival skills do you need to know to deal with the day hike that turns into a night walk or when cold blue skies turn to thunderstorms? How do you find and/or make shelter and start a fire to keep you company and dry you and your gear out?  What is the best way to dress for variable mountain weather?  What tricks can help you  stay on a difficult trail in the daylight or dark and find your way when the trail is nowhere to be found?  Hands on practice and working with others teaches the nuts and bolts of outdoor preparedness and survival. Seeing other folks' ways of dealing with diverse situations helps create new ideas for everyone.